Non-fungible tokes are ruling the market as it's profitable for both the artist and investors. Digitally equipped tokens are the new future of currency. We already came across the cryptocurrency boom and in near future, there might be more.
In simpler words, Non-fungible tokens or NFTs are unique tokens that cant be substituted with something else. For example – Bitcoins are fungible; you can trade with one another and literally have the same thing. Whereas, a unique trading card is considered non-fungible. Hence, people look out for NFTs to buy as some sort of antique. Though the list changes rapidly (even as I write) here's a list of 13 Most Expensive NFT Sales happened so far:
13 Most Expensive NFT Sales:
Amount Sold for – $69.3 Million.
Seller – Mike Winkelmann (from Beeple).
The pure digital artwork of Mike was sold for a whopping 69.3 million dollars and it has the record of being the most expensive NFT ever sold. This artwork depicts a collage of 5000 Beeple's earlier artworks and his demonstration of being an artist over the years. It was purchased by an Indian named Vignesh Sundaresan.
2. CryptoPunk #7804
Amount Sold for – $7.5 Million.
Seller – Matt Hall and John Watkinson but later sold by Dylan Field.
CryptoPunks are a set of 10,000 unique digital characters (first examples of NFTs) developed by Matt Hall and John Watkinson which were given away for free. Dylan, in 2018 sold the blue-skinned pipe smoking alien i.e. CryptoPunk #7804 for a significant value of 7.5 million dollars. It is the second most expensive NFT ever sold.
3. Crossroad
Amount Sold for – $6.66 Million.
Seller – Acclaimed digital artist from Beeple.
Crossroad is an NFT that promoted Anti-Trump activities like a figure of an enlarged version of him with profanities written all over his body. It was mainly done to influence the 2020 election which successfully worked. It was bought by an anonymous buyer from Nifty Gateway.
4. The First Tweet
Amount Sold for – $2.9 Million.
Seller – Jack Dorsey.
Can you even imagine that someone's tweet will be sold for an insane amount of 2.9 million dollars? Yes, you heard it right! This is just the NFT version of the first-ever tweet by the one and only, Jack Dorsey – the cofounder and CEO of Twitter. This was auctioned throughout March 2021 and got sold for a mind-boggling 2.9 million dollars. The token originated from a platform named Valuables, where one can make NFTs that stand for their tweet. Jack decided to donate to Africa's response as well, which is a symbol of his benevolence.
Recommended read: Peaky Blinders Season 6 Details.
Amount Sold for – $1.54 Million.
Seller – Matt Hall and John Watkinson but later sold by Dylan Field.
The same as the above but the character is somewhat different. The character wears a hat with an uninterested face. It got sold for 1.54 million dollars. Presently, it is re-listed for 3.42 million dollars, if sold, the seller would get a large amount of profit (about 122%).
6. "Genesis" Estate
Amount Sold for – $1.5 Million.
Seller – Axie Infinity; a blockchain gaming platform.
It is one of the most bizarre things ever sold – Virtual property. The blockchain gaming platform Axie Infinity sold its "Genesis" – a virtual estate for an eye-popping 1.5 million dollars to the user named 'Flying Falcon'.
Amount Sold for – $1.33 Million.
Seller – Slimesunday and 3LAU.
This NFT is an innovative one as it entitles the buyer to choose the name of an unreleased music video and a dance track which are both original and open editions. The famous American music producer 3LAU and Slimesunday collaborated on this and sited them into the Nifty Gateway.
Amount Sold for – $1.3 Million.
Seller – Matt Hall and John Watkinson but later sold by Dylan Field.
Here we go again! Another one of the CryptoPunks made it to the list now its the #4156 which is ape-faced with a blue bandana and looking left. The third CryptoPunk on the list which proves their demand on the market. Who could have thought a bunch of unique characters would amount to in millions?
9. Not Forgotten, But Gone
Amount Sold for – $ 1 Million.
Seller – WhIsBe.
The 16 second video created by WhIsBe, an artist in New York City bagged him the 1 million dollars on Nifty gateway. He originally sold gummy bear murals but he switched to NFTs for higher return value and funds. The video is of rotating gummy bear skeleton called Not Forgotten, but Gone.
Recommended Read: Psychological Thrillers on Netflix you cant miss.
Amount Sold for – $1 Million.
Seller – Justin Roiland.
'The Best I Could Do' is an NFT created by Justin Roiland, the co-creator of Rick and Morty. The artwork is based on Rick and Morty like the Eligible Bachelors, The Smintons, etc. The buyer was anonymous and quoted that this might be valuable later so it's an investment but also a huge Rick and Morty fan.
11. Hairy: 888,888
Amount Sold for – $888,888
Seller – Steve Aoki and Antoni Tudisco.
The most famous music and EDM producer – Steve Aoki teamed up with 3D illustrator Antoni Tudisco to create NFT that consists of a blue bespectacled creature grooving to one of Aoki's songs. This NFT enables the owner to an Infinite Objects physical screen displaying, provided the owner holds the token for 2 weeks post-auction.
12. The Complete MF Collection
Amount Sold for – $777,777
Seller – Beeple.
This NFT video made by Beeple consists of all other artworks sold as a tribute to the collection. Besides this – a physical token, signed titanium backplate and certificate of ownership were handed over. The NFT was purchased by Tim Kang for $777,777.
13. LeBron James "Cosmic" Dunk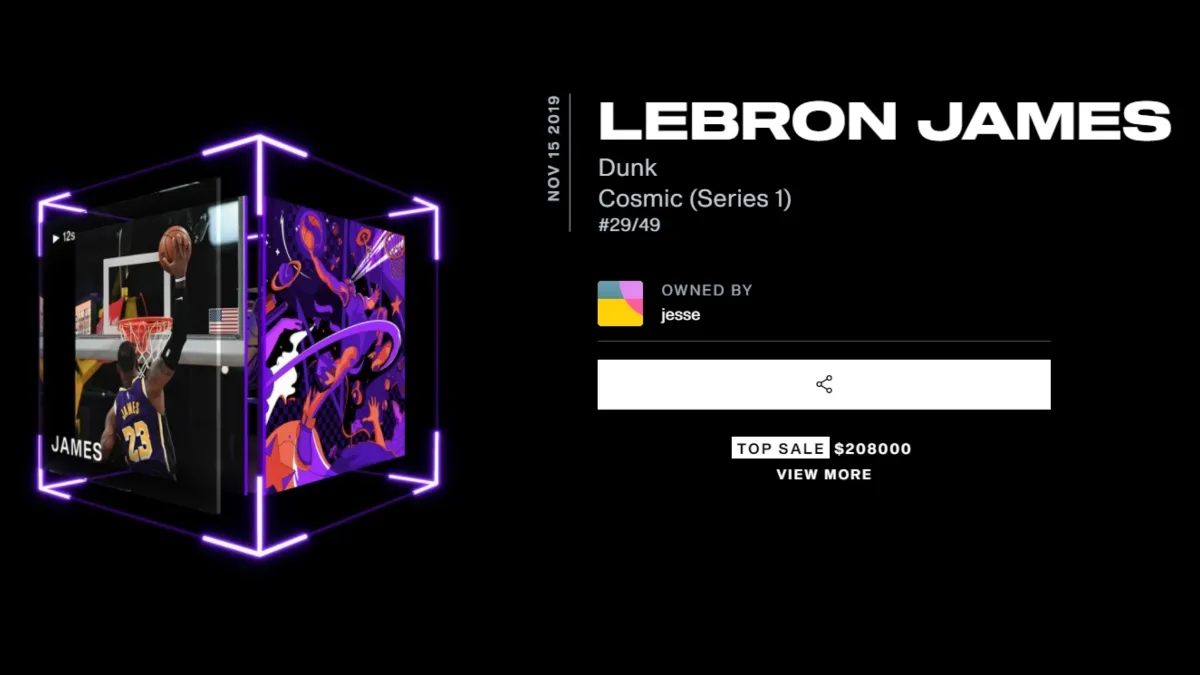 Amount Sold for – $208,000
Seller – Sparky_24
For those of you don't know what it is, LeBron James "Cosmic" Dunk is a set of 49 collector card pack, #29 was bought by 'Jesse' for a breathtaking 208,000 dollars. 'Sparky_24' – the seller previously drew it from a pack, What a profit!!
FAQs on Most Expensive NFT
How to make an NFT?

NFT can be anything like GIF, image, sketch, etc. but it has to be strictly unique. One can also go for unique trade tokens or cards, the possibilities are countless. Just keep in mind, the thing shouldn't be of anyone else or pirated, it has to be your unique art.

What are the most popular NFT marketplace?

Some famous Ethereum NFT Marketplaces include:
– OpenSea.
– Mintable.
– Rarible.

How to sell NFT art?

Selling an NFT art is not rocket science, it's easier than you can imagine. You just have to go to your collections, and click on the 'Sell' button of your NFT Marketplace account. You can either sell it at a fixed price or run an auction. You can sell your NFT art for the most common cryptocurrencies available like Ether and other ERC-20 tokens.