6 Best Sites Like Craigslist in 2021
Do you want to sell your stuff online or want to advertise your business/organization or jobs and looking for sites like Craigslist and take your business on e-commerce? Check out our list of
6 best alternative sites like Craigslist
1. eBay
Founder: Pierre Omidyar
CEO: Jamie Lannone(27th April 2020- Present)
Headquarters: San Jose, California, United States
Industry: E-Commerce
Founded: 3rd September 1995
eBay is an American e-commerce business corporation that provides e-commerce services through its website. It is a multibillion-dollar multinational e-commerce giant, operates its business in about 32 countries on different continents around the globe.
The company provides services like online buying and selling different types of products like clothing, accessories, electronics, arts, music, toys and the list goes on. Heavy and medium industrial supplies and equipment are also included in the list. It also deals with vehicles and vehicle accessories. You can register yourself as a buyer and as a seller. This website is completely free to use for buyers but to be a seller at eBay you have to pay charges for listing your products and selling them.
In 2019, eBay generated a massive revenue of 10.8 billion USD and it is also traded in NASDAQ. eBay has acquired 25% of listing website Craigslist and some of its other subsidiaries are PayPal, Skype, Stubhub.
Visit the website eBay.com
2. Facebook MarketPlace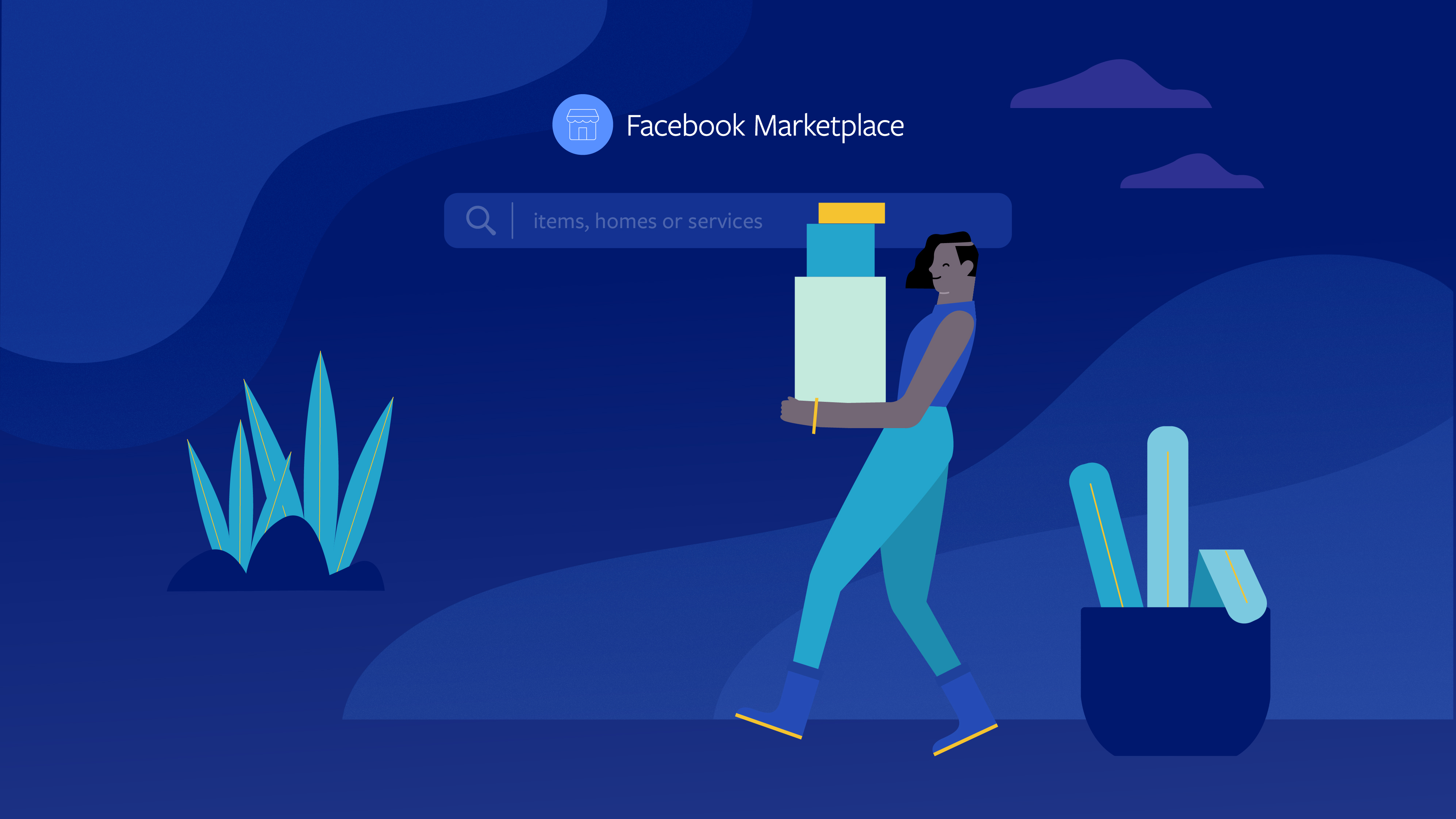 Parent Company: Facebook
Headquarters: Los Angeles, California, United States
Industry: E-Commerce
Introduced: 2007( Initially)
Facebook Marketplace is an e-commerce business service provided by worlds one of the leading technology company Facebook. Initially, Facebook introduced Marketplace in the year 2007 and later in 2009 its operations were transferred to Oodle but then it shut down in 2014. During this time marketplace never gained popularity but then in 2016 Facebook introduced a new Marketplace.
Marketplace provides a platform for buying and selling new products as well as used products. The product catalogue includes vehicles, real estate, fashion, accessories, rental properties, electronics, home appliances, toys etc. The marketplace is very simple to use e-commerce platform for the sellers and also the buyers. You just have to post the pictures of the items you want to sell and the buyers can contact you through messenger.
Facebook Marketplace provides you with a social platform to get your business into e-commerce. The marketplace is one of the best e-commerce platforms to sell your products and services among local communities around you.
You can access the Marketplace in your Facebook Application.
Recommended Read: Best Chrome Extensions for Discount Coupons
3. OLX
Founder: Fabrice Grinda & Alec Oxenford
CEO: Martin Scheepbouwer
Headquarters: Amsterdam
Industry: Online Marketplace classified forums
Founded: 2006
The company Online Exchange or OLX started its business as an alternative company to Craigslist outside the United States of America. Now, the majority of the company shares belongs to South African media company Naspers.
One of the best sites like Craigslist, OLX provides an online platform for e-commerce businesses to grow and sell their products and services worldwide. The product catalogue includes Real estate, electronics, vehicles etc. Here you can advertise your products and enlist them for selling. As a buyer, you can get thousands of used products and services according to your demand. Here you can get used vehicles, used mobile phones and electronic accessories.
Currently, OlX has 200 million active users per month and almost 11 billion views on their site and OLX maintains business operations in 41 countries worldwide.
Visit the site Olx. in
Recommended Read Best Sports games to play at Unblocked Games 66
4. Letgo
Founders: Alec Oxenford, Jordi Castello and Enrique Linares
CEO: Enrique Linares(2015 – Present)
Headquarters: New York City and Barcelona
Industry: Online Marketplace
Founded: 2015
The fourth name on our list of sites like Craigslist is Letgo. Letgo provides an online marketplace that allows the users to buy and sell their used product locally using the application. The product list includes used cars, mobile phones, electronic appliances, home and garden accessories, fashion accessories, etc. Letgo gained popularity in a very short period of time because of its free services. But after 2018, the company added a paid beta feature for the sellers.
This site has a huge listing of about 200 million used products and it became the second-fastest growing app in the United States of America in 2017. In September 2020 OfferUp, a competitor of Letgo acquired the Company and Letgo became a part of OfferUp.
Download Letgo from play.google.com, apps.apple.com
5. Quikr
Founder: Pranay Chulet
CEO: Pranay Chulet
Headquarters: Bangalore, India
Industry: Marketplace & e-commerce
Founded: 2008
Quikr is an Indian online marketplace and classified advertisement service platform headquartered in Bangalore, India. Initially, it was launched as Kijiji India in 2005. Later in 2008, Matrix Partners India, a venture capitalist invested in the company and rebranded it as Quikr.
Quikr provides a classified advertisement and e-commerce platform for buying and selling goods and services. It has listed in over 1000 cities in India which include smartphones, used cars, household appliances, real estate, jobs and education-based services and advertisements across India. It also helps local businesses to grow by providing them with a classified advertisement and e-commerce platform through their website.
Visit Quikr.com
6. ClassifiedAds.com
CEO: Edward Yim
Office: Bellevue, WA
Founded: 2007
ClassifiedAds.com is a free online advertisement website with millions of advertisement listed. It became very popular for its free advertisement service and anyone can post an advertisement for their products and services free of cost.
Its huge catalogue of listing includes Vehicles, Medical Services, Household appliances, Rental properties, Real Estate, Jobs, Community Services like Volunteers, Free stuff, Lost and found items, Jobs, dating and many more. It provides a very simple and easy to use interface and simple advertisement posting process. You can search for products and services listed by locations using simple keywords or category.
Visit ClassifiedAds.com
Hope it helped you find sites like Craigslist. Here are few most asked FAQs on Craigslist.
FAQs on Sites Like Craigslist
What is the best alternative to Craigslist?
All of the above sites are good alternatives to craigslist, you can choose any of them according to the service or products you need.
What's the best selling site?
You can decide the best selling site according to your location and the products and services you want to sell. Like if you want to sell your products in India, Quikr and Olx might be a better option for you.